Exterior
Mass Timber Construction Application
Mass Timber Construction Screws and Fasteners
Valued for its natural beauty, strength, and versatility, wood offers endless possibilities in architecture and design. Conveying warmth and sophistication, it can be used as a load-bearing structure and an interior finish material. Mass timber construction is capturing the imaginations of leading building and design professionals, who continue to evolve and advance its potential.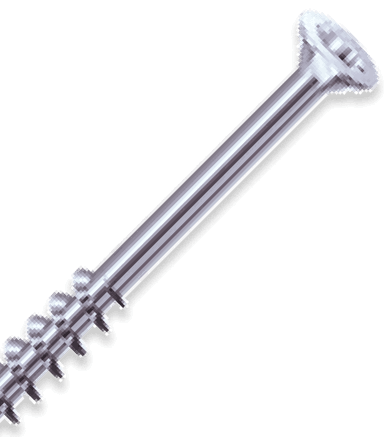 SPECIALTY ENGINEERED FASTENERS
EXCEPTIONAL SOLUTIONS FOR SPECIAL PROJECTS
What is Mass Timber?
Mass timber is a type of engineered wood product made from several layers of lumber boards that are glued together to create large structural elements such as columns, beams, and panels. Mass timber is a renewable and sustainable building material that is gaining popularity in the construction industry due to its many benefits, including its strength, durability, and aesthetic appeal.
There are several types of mass timber:
Cross-laminated timber (CLT). CLT is the most common type of mass timber and consists of several layers of lumber boards stacked perpendicular to each other and bonded with adhesive.
Nail-laminated timber (NLT). NLT is similar to CLT but is made by nailing the layers of lumber boards together instead of using adhesive.
Dowel-laminated timber (DLT). DLT is similar to NLT but uses wood dowels to join boards instead of nails or screws.
Glue-laminated timber (glulam). Glulam is made by gluing several layers of lumber boards together in parallel, creating a strong and durable beam or column.
Mass timber has several advantages over traditional building materials such as concrete and steel. It is lightweight, yet strong and durable, and can be used to build tall buildings without the need for a steel or concrete core. Mass timber also has a lower carbon footprint than traditional building materials, as the production process generates less greenhouse gas emissions. Additionally, mass timber is easy to work with and can be cut and shaped on-site, allowing for faster construction times.
In recent years, mass timber has become increasingly popular in the construction industry, with several tall buildings being constructed using this material. The use of mass timber is expected to continue to grow as more architects and builders recognize the benefits of this sustainable and innovative building material.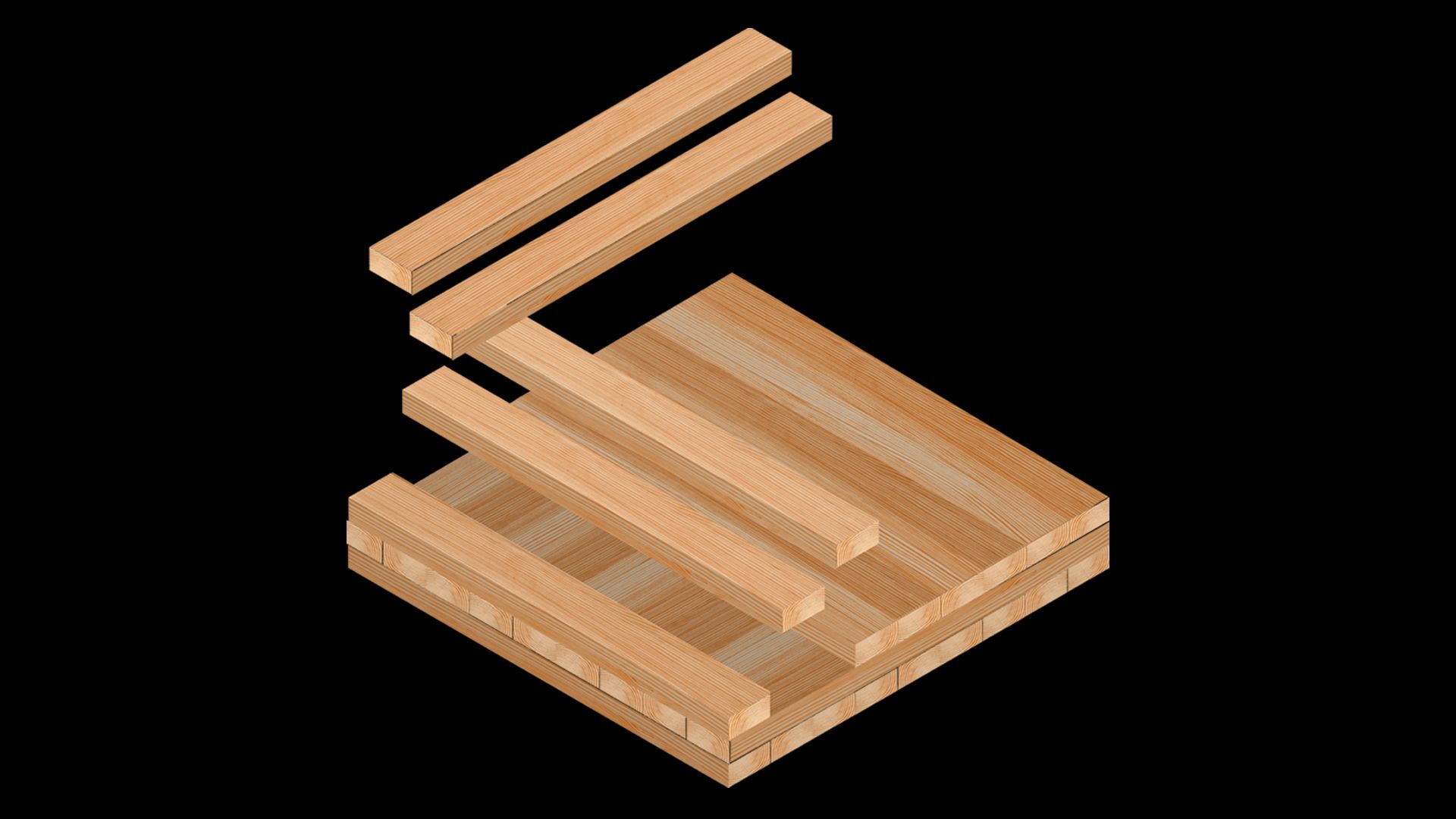 Cross-laminated timber (CLT)
Cross-laminated timber (CLT) is a wood panel system that is rapidly gaining popularity in the U.S. after being widely adopted in Europe. The strength, dimensional stability, and rigidity of CLT allow it to be used in mid- and high-rise buildings.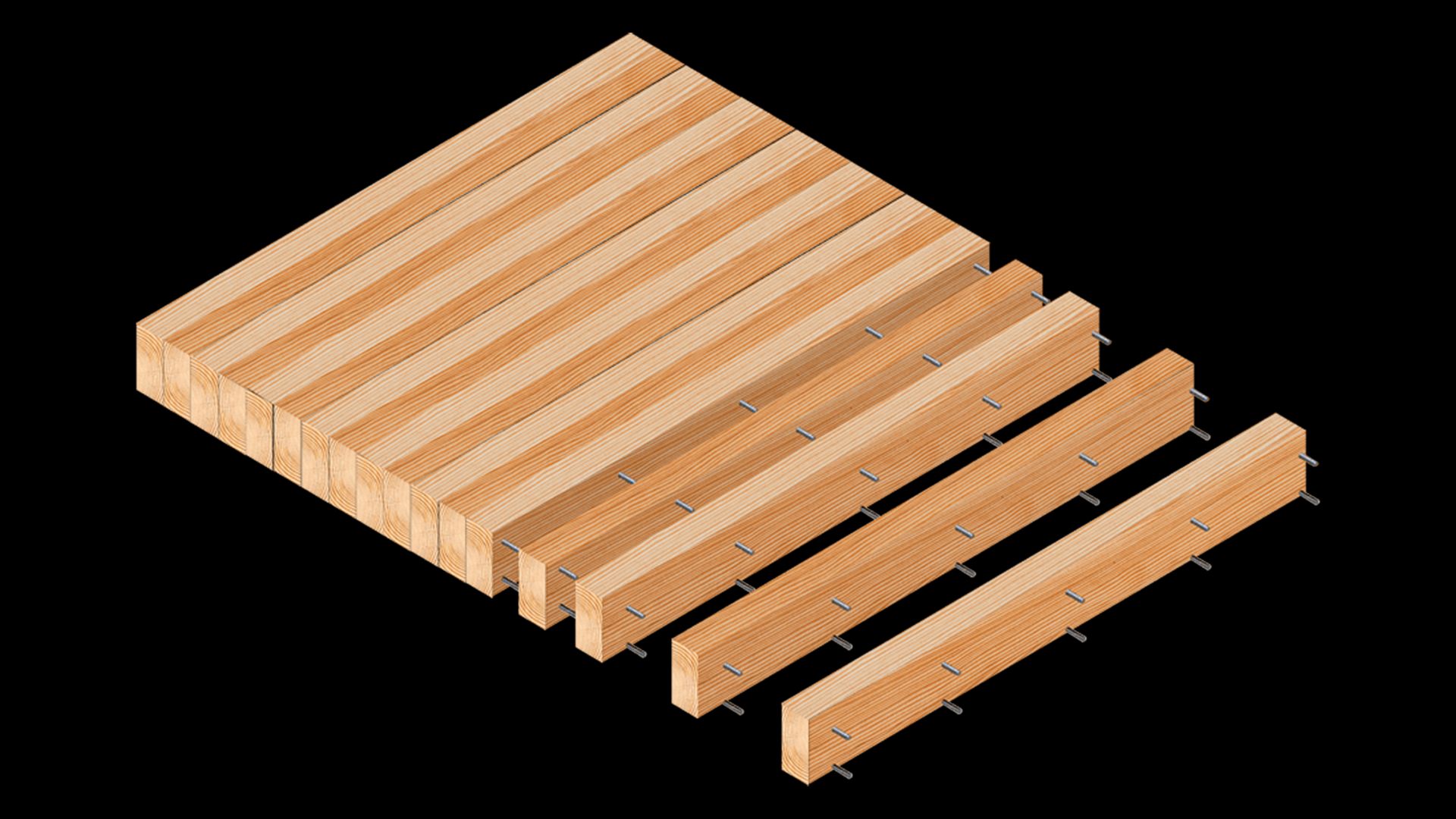 NAIL-LAMINATED TIMBER (NLT)
Nail-laminated timber (NLT or nail-lam) is a century-old construction material that is undergoing a design renaissance. Its structural performance and design elegance come together to create inspiring spaces in many historical buildings as well as modern new projects of all sizes.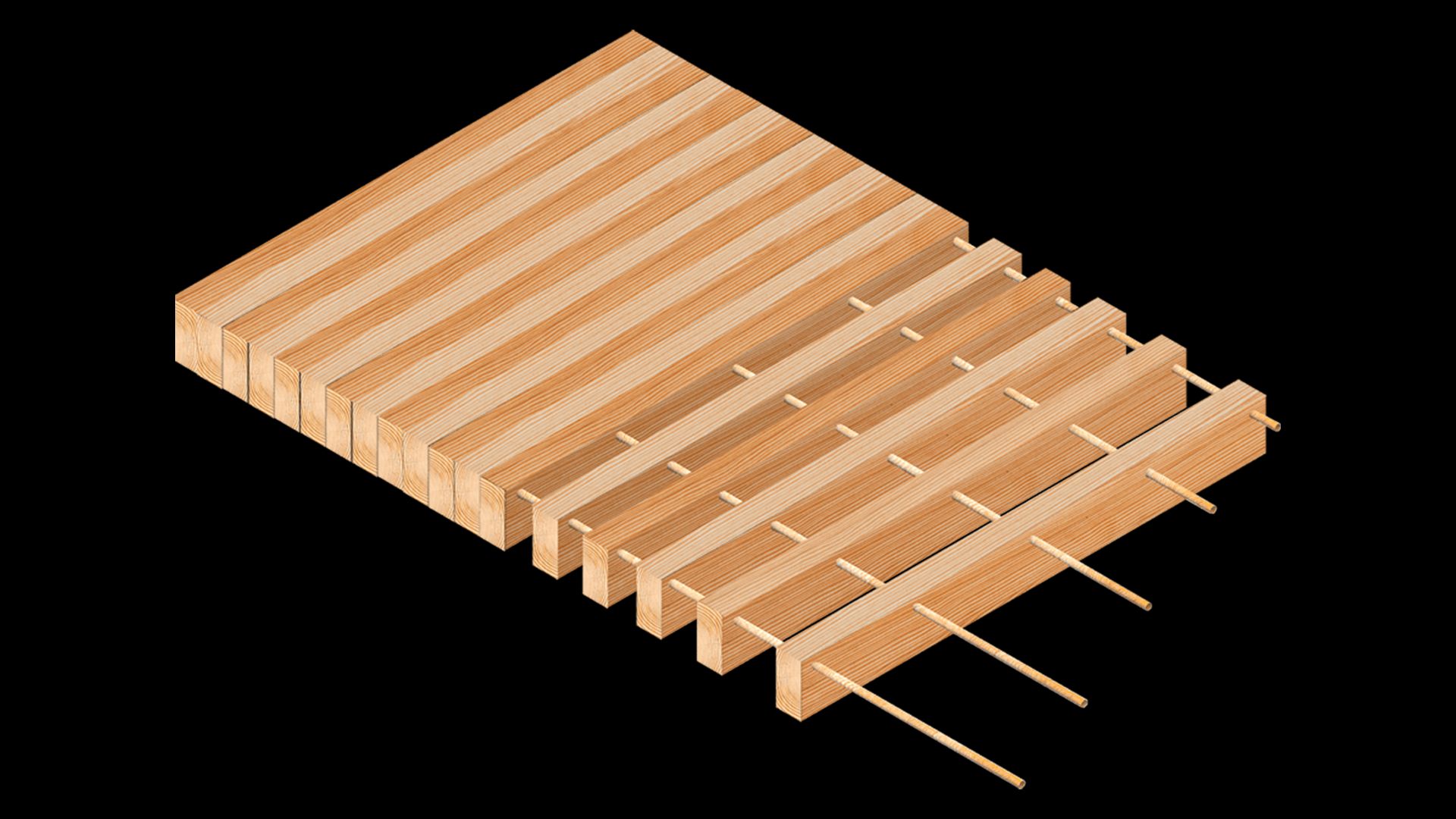 DOWEL-LAMINATED TIMBER (DLT)
Dowel-laminated timber (DLT) is common in Europe and is gaining traction in the U.S. for its ease of use with computer-controlled (CNC) machinery—such as lathes, routers and mills—and its all-wood composition. DLT is similar to nail-laminated timber (NLT). Instead of nails or screws, however, DLT uses wood dowels to join laminations.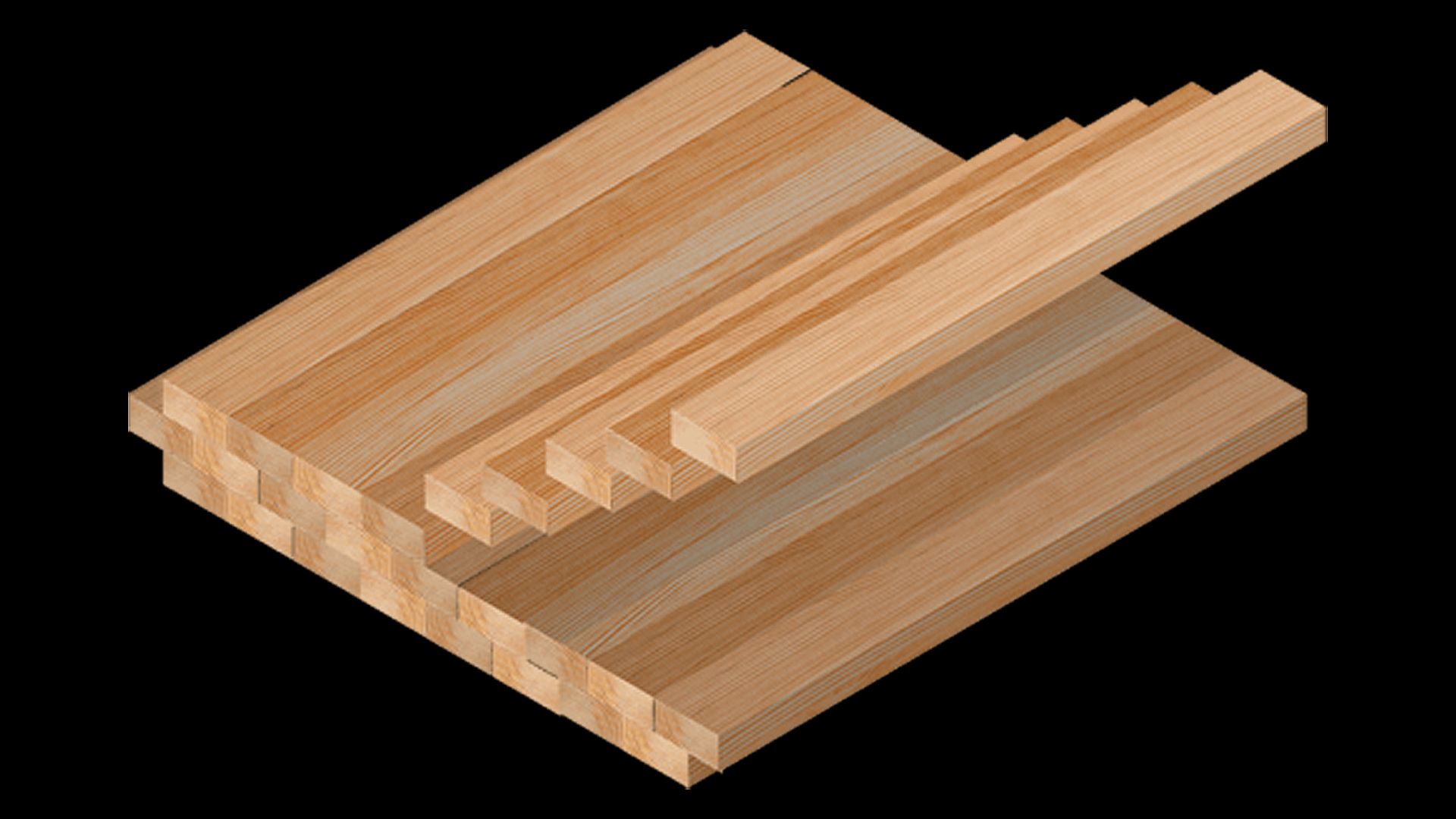 GLUED-LAMINATED TIMBER (Glulam)
Glued-laminated timber (glulam) is a structural engineered wood product commonly used for beams and columns in residential and commercial applications. It is a highly visible form of mass timber in contemporary projects, with long spans framing signature designs left exposed to take advantage of wood's natural aesthetic.
HEAT TREATED - GRADE 5 DURABILITY
Optimal rigidity, malleability, and material strength
Proprietary heat treatment process optimizes each fasteners shear strength without breakage.
Innovation in Every Inch
Powerlags® for strong wood-to-wood connections
German engineered and American made, SPAX® PowerLags® are professional grade structural screws, the superior and preferred choice over conventional lag screws/bolts.

No Pre-Drilling
No pre-drilling required (1/4" and 5/16")
Tested & Certified
Independently tested DrJ Engineering Technical Evaluation Reports.
Increased Installation Speeds
Patented thread serrations require up to 40% less driving torque to increase installation speed while helping prevent cracking in logs.
Built-On Washer Head
Built-on washer head designs eliminate the need and extra cost of a separate washer.
Convenient Identification
Fastener length stamp on the head provides convenient identification without measuring and aids on-site inspections.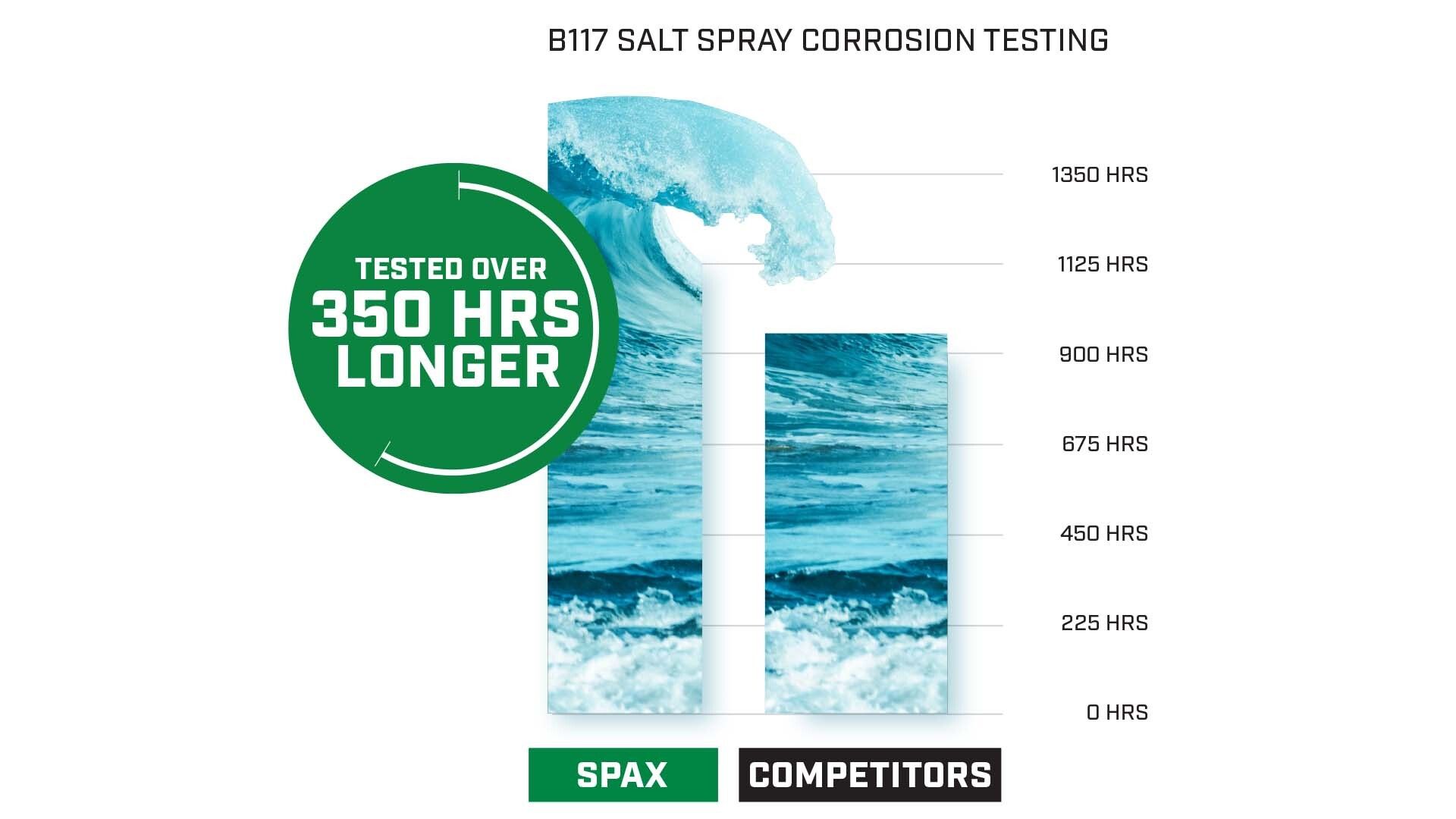 B117 SALT SPRAY CORROSION TESTING
Tested Beyond the Norm
We test and inspect beyond all standards to deliver exceptional structural support—from head to point. Push past what's expected with time-tested confidence in every connection.

SPAX Factor™
SPAX® Delivers the Highest Structural Values in the Industry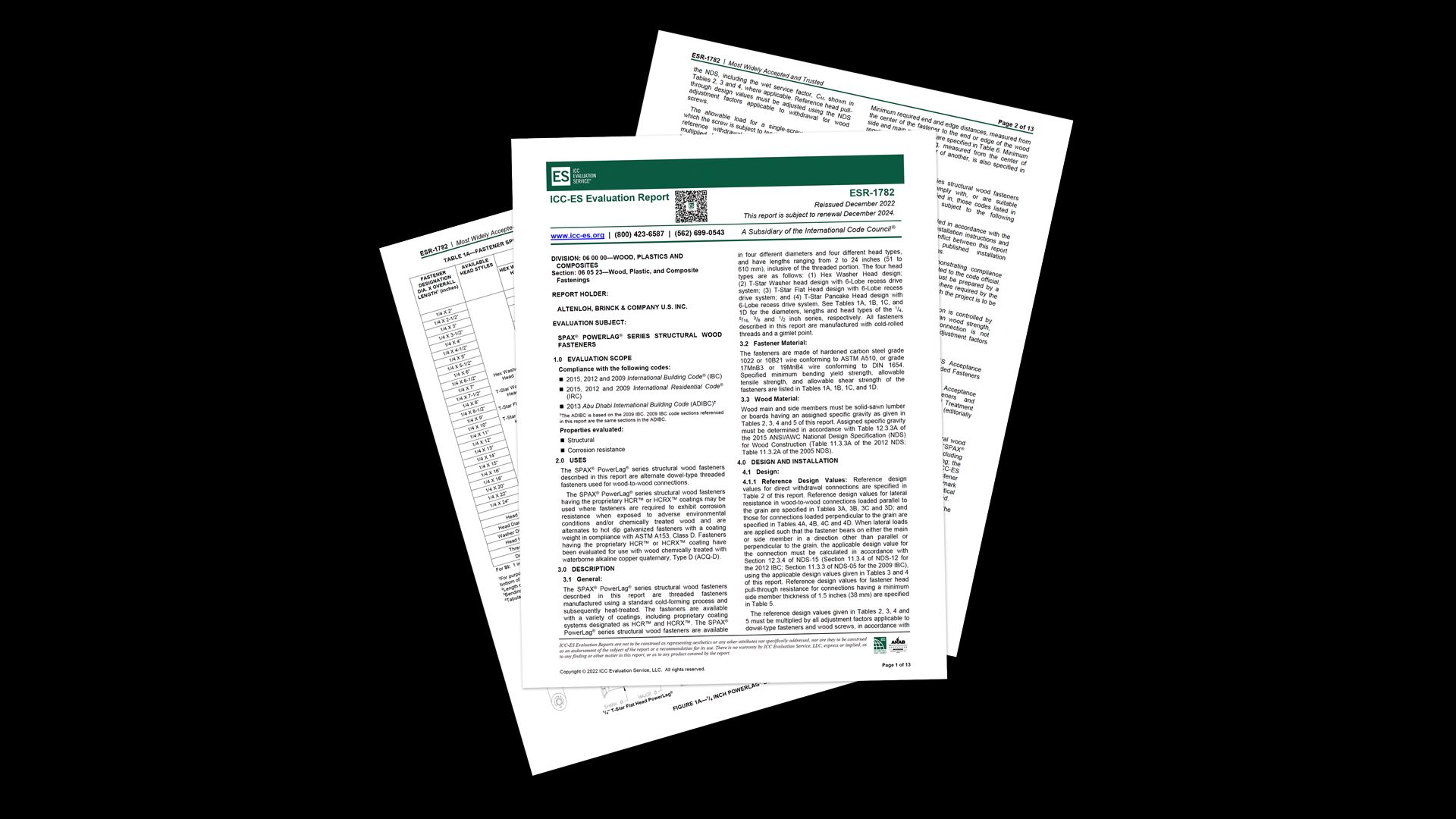 SPAX® POWERLAGS® HIGH PERFORMANCE
HIGH VALUE
SPAX offers the largest selection of code-recognized structural wood-to-wood fasteners in the industry.
We've Got You Covered
Find the right screw or fastener for your next job with the largest variety of diameters, lengths and head styles in the industry.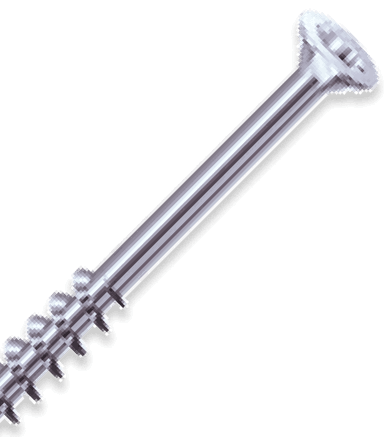 Request a Sample Pack
Examine our products up close before you buy. Just locate a SPAX seller near you or order online today.